Aisya Rahman is a licensed independent financial adviser, among the only 889 advisers in Malaysia (For an updated figure, click here).
Raised by a single mother, Aisya saw the importance of education, protecting one's wealth, saving, investing and preparing for our departure from this world. Her early career exposure as a Premier Banker and unit trust consultant had paved the way for her to acquire multi-licenses in financial planning.
Being independent gives Aisya the advantage to cherry-pick from the best solutions, whether locally or globally.
My thoughts
A collection of financial literacy pieces I've penned down.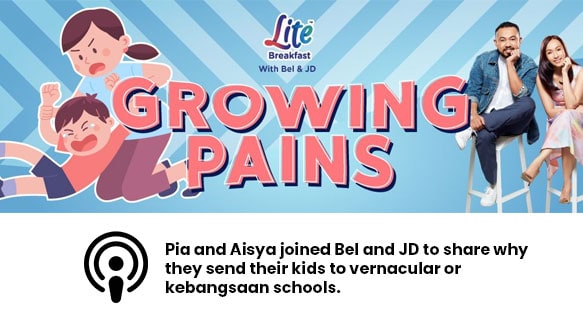 Why do you choose to send your kids to the schools they are currently going to?#LITEGrowingPains
Truly an Independent Financial Adviser
Multi-licensed & independent for your financial peace of mind.
"From years of being a corporate achiever and banker, I'm fuelled to empower professionals and entrepreneurs to take back the reigns of their financial future."
We're all capable of managing our lives well until we can't. It might be a sudden accident, a bad financial decision came back to bite you, or by just sheer luck. That's why insurance and Takaful exist, to make up for the 'what if's' that could happen to us at any time.
But when financial troubles come, there is no 'insurance' for it, unless you plan for one yourself. Though, what is planning without knowledge, it's like baking without a recipe, choosing a surgeon that didn't go to medical school or even an engineer that doesn't know their spanners from their screwdrivers. All these professionals we believe in gained our trust through many years of studying, practicing and improving themselves in their chosen craft to be the professionals they are today.
Now, apply that logic to your finances. Have you put in the time, effort and resources an Independent Financial Adviser has to fully comprehend the funds, investments, insurance or takaful policies and debt you've accumulated through the years from just 'let's just do this and see how it works later'?
Well, I have and it has become my passion to empower professionals and entrepreneurs like you to primarily get you out of debt, if any, and then set achievable plans to how you want your financial future to look like. Being independent means I'm impartial and see things as they are, as I'm not influenced by payroll, incentives and the other things agents claiming to be financial planners say.
As much as Uncle Google can help us, the capacity to connect the financial dots cannot be achieved by artificial intelligence or DIY.
The human touch is still vital, especially when it's about your future and the many factors that will play into the bigger picture. As an Independent Financial Adviser, it is my job to show you what you can achieve first through the big picture, then after that the next steps to take whether it is investment, insurance or other well calculated measures.
Being unattached to a single institution gives me and you the freedom to cherry-pick from the best funds, investments and policies, be it locally or globally. As long as they can meet your future goals and contribute to your financial growth, we'll be considering to partake in it for your overall financial planning.
Besides that, I have a whole slew of items that you may have not thought about just yet, which you can take into consideration for your own financial plan.
Assistance For Your Financial Future
"Planning for life after death for your family is essential. It is our responsibility to ensure they are well-taken care off when we're gone. If you're the breadwinner, ask yourself, can your family survive financially after you're gone? You got to ensure your hard-earned savings are not drained away in no time."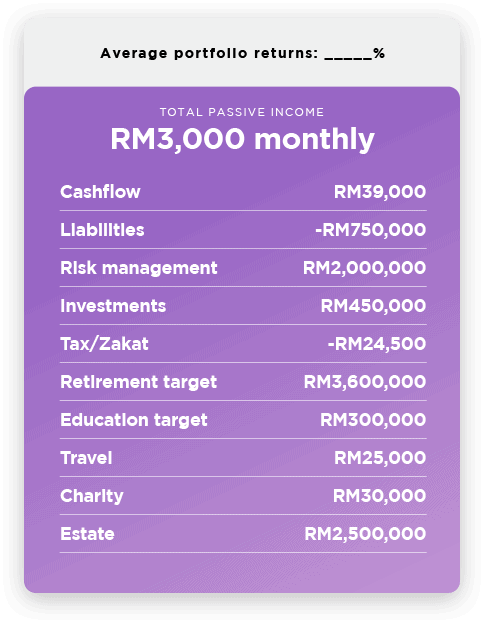 How Your Holistic Financial Plan Will Look Like
Once your holistic financial plan has been designed just for you, we will continue to improvise your plan after each milestone is achieved. Each of these plans are specially designed so that:
How Finances are being dealt with in our society today
*An excerpt from MALAYSIA National Strategy for Financial Literacy 2019-2023.
Holistic & Sustainable Financial Planning
I will be there with you throughout your financial journey. This is how our partnership will look like in the years to come.
FAQ
Frequently Asked Questions:
Having CFP/IFP is just the first step, this is just the mandatory paper qualification. Any agent who aspires to become an Independent Financial Adviser has to resign from the principal insurance or unit trust company that they are attached to, so that they can be fully certified as an Independent Financial Adviser and acquire the necessary licenses from Bank Negara Malaysia and Securities Commission.
Upon our death, our assets will be frozen, and the law kicks in. The law will look into the legal documents that we have prepared before our departure such as will/wasiat, nominations and others. If these legal documents are not available, then our loved ones will need to go through the longer route to unfreeze our assets which can be costly and time consuming.
I agree that some products can be purchased online directly at 0% sales charge. At 0%, you are required to self-service, submit your own claims, follow up, monitor the market daily, take necessary actions when the market turns bullish or bearish. As an Independent Financial Adviser, I always believe financial products should never be sold, it should be professionally prescribed. It is about making better financial decisions time after time. If you value this, then that's where having an Independent Financial Adviser could be of value to your financial future and independence. Price is secondary.
True, however misfortunes, recession, retrenchment, illness and death do not only happen to those who are older, it can happen to anyone regardless of age. We should plan for our lives with much better care than we plan for our holidays. A temporary escape is good, but what's permanent and everlasting is a change towards how we handle our financial well-being.
A Financial Plan is like the master plan of your financial status. In one glance, you know where your strengths are and which financial shortfall you should plan for and look into next. Events such as death, divorce and disability can happen anytime. These events affect us emotionally and mentally. It should not affect us financially at the very least. Financial independence does not happen overnight, it requires one to plan and take actions continuously throughout one's lifetime.
Other than getting a personalised financial plan that is customised exclusively to your financial goals and dreams, you can also leverage on my experiences as a premier banker, investment and estate specialist. My other achievements such as helping my clients to get out of debt and bankruptcy have taught me techniques that you can also tap into.
Upon signing the letter of engagement and remitting the advisory fee, the planning can take up to a month or less. It depends on how fast you're able to furnish me with all relevant information, documents and your acceptance to execute the proposed solutions.
Like marriage, you'll know it when you're ready.
You can hold on to it until we have identified your financial goals. We will use what you already have to identify if there are any duplications or shortfall.
Being independent means my views are neutral. When it comes to selection of investments, I will present both conventional and Shariah solutions. You will be surprised that there are Shariah investments out there that can generate better returns than ASB alike.