AGENTS DISGUISED AS FINANCIAL PLANNERS
1-1 Financial Planning – Have you ever met up with an old acquaintance who called themselves Financial Planners? Then when you showed up at the meeting, the first thing they spoke about was some insurance, takaful or investment plan with so-and-so returns, and suddenly a form or iPad came out for you to subscribe and sign?
That's one thing you won't be experiencing with us as your Financial Planner. I think it's time that you educate yourself first on what financial planning is all about before you decide to engage a Financial Planner, be it the real one or vice versa.
WHO IS A FINANCIAL PLANNER?
A Financial Planner is someone who sits down with you, understands what your financial struggles and challenges are, getting to know where you're at and where you want to go, gathering all your financial information, auditing each financial area before working with you to identify which financial products or solutions fit you best.
A Financial Planner is the one carrying out and leading the financial planning exercise. It's called planning first, before buying, investing, subscribing, taking out your money or credit card to purchase a financial product or solution.
Check out our earlier article on this too.
MEET YOUR LICENSED ISLAMIC FINANCIAL PLANNER
Hi! I'm Aisya Rahman, a Licensed Financial Planner and Licensed Islamic Financial Planner from Harveston Financial Group. Despite being licensed in both the conventional and Islamic space, I only focus on the Islamic financial planning landscape.
Believe it or not, I didn't grow up wanting to be a Financial Planner right away. It was after a series of life events and debt that led me here. On the bright side, thanks to these real-life experiences, I am now able to connect and relate to the financial struggles and pain of my clients. I don't copy paste all that I learnt from Certified Financial Planner and Islamic Financial Planner books because theories and practicalities are two different things.
It's like knowing what's healthy for your body because you learnt health and fitness, while indulging in chocolates while reading those fitness books. Get what I mean? Knowing a subject and implementing them sometimes can lead to a big disconnect.
Prior to becoming a Financial Planner, I worked with MNCs and local SMEs in the capacity of a banker, event planner, sales, marketing, branding, advertising, writer, and client servicing.
On the personal side, I am quite a nerd, reading few books at a time while being the Chief Finance Minister of my household and a mother to two very quarter-Chinese-handsome-looking boys. Once in awhile you will see me strum my guitar on our Instagram page. Did I tell you I ride the Vespa too?
HRD Corp Accredited Trainer
Islamic Financial Planner
Certified Financial Planner
MSc Project Management, Distinction
B.A (Honours) Business Management, majoring in Marketing
Diploma in Mass Communications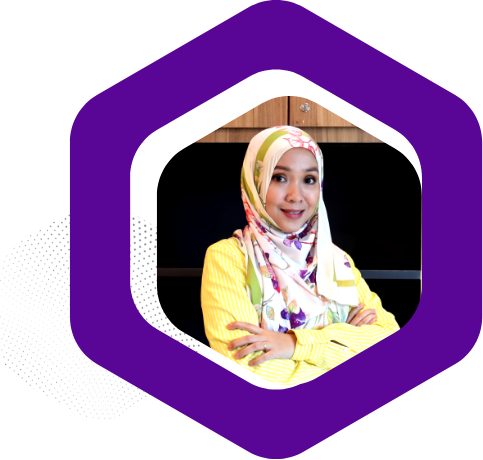 SOME AWARDS OVER THE YEARS
International Dragon Award – Bronze (2021)
International Dragon Award – Bronze (2020)
Harveston Annual Award, Top New Asset Under Management – 3rd place (2020)
International Dragon Award – Bronze (2019)
Harveston Annual Award, Top New Asset Under Management – 2nd place (2019)
Harveston Annual Award, Top New Regular Investment – Champion (2019)
iFAST Rookie of the Year – 4th place nationwide (2018)
Harveston Annual Award, Top New Asset Under Management – 2nd place (2018)
Harveston Annual Award, Top New Regular Investment – Champion (2018)
Other recognitions from my unit trust days can be found on my LinkedIn
WHY SHOULD YOU WORK WITH A LICENSED ISLAMIC FINANCIAL PLANNER?
Just like building a house, you will draw up a master plan first to see the entire house structure, square feet of each space, how many walls need to be knocked down, get the right type of permit, and have sufficient funding before you actually start knocking down them walls, shopping for furniture and lastly, move in and live happily ever after.
Similarly in your personal finance, you got to draw up a plan first to see the entire big picture. You got to see which 'space' needs to be knocked down, extended, renovated, or removed completely. What comes next is a series of execution, maybe frustration too, especially when market becomes bearish and so does your investment, or your mortgage financing gets rejected, medical plan gets postponed, etc.
There are many variables when it comes to your money. If you don't make time to understand it, gain financial literacy, then how can you improvise as the years go by? Earning a good income and managing the income require two different skills.
By working with a Licensed Islamic Financial Planner like me, you get to simplify your wealth management journey as we will invest time in understanding some big financial jargons first, topics that you may have heard before but never seem to comprehend it, before we go straight into the practical side of identifying what options are out there, followed by implementing your preferred financial products or solutions.
Plus, you will walk away with a humanised report on your financial gaps, which runs up to 30 pages sometimes. Once we know what your financial gaps and risks are, we'll move forward with the available financial planning solutions in the market for you to consider.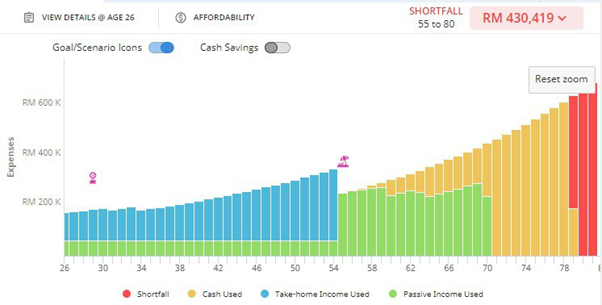 How we present our simulation.
AN ARRAY OF FINANCIAL PLANNING SOLUTIONS FOR YOU
I am licensed to provide advisory on financial planning including debt management and risk management. Unlike insurance and takaful agents who are tied to a single provider, my license grants me access to all of the providers in the market hence giving you options to choose which takaful plan fits you best.
Some of the scope of work that you and I will work on include:
Budgeting
Cash flow management
Mortgage
Credit card
Education financing
Debt management and consolidation
Takaful
Asset and business protection
Employee or individual medical benefits
Critical illness and income protection
As someone who is managing 8-figure Shariah asset under management, I am experienced and licensed to formulate investment portfolio strategies. Plus, my clients and I have survived three recessions, there are insights here to learn from and implement considering investment landscape have evolved to be more volatile, post-pandemic.
Some of the scope of work that you and I will work on include:
Education planning
Retirement planning
EPF investment via i-Invest
Private Retirement Scheme
Fixed Deposit alternatives
Like what we've seen since year 2020, being alive is a gift as much as it is a risk. If we don't plan for our transition to the hereafter properly, the impact is not just upon us but our loved ones and business too. This conversation could be sensitive, but it still needs to be carried out. By knowing what your options are in the estate planning space, you can choose which instrument fits you best, rather than allowing the law to dictate for you later.
Examples of estate planning instruments include:
Will writing
Wasiat
Hibah
Living trust
Testamentary trust
Family office
Foundation and more.
I am also an Associate Estate Planner Practitioner (AEPP®) by United Kingdom's Society of Will Writers and EPPL Ltd.
By joining our workshop, you will be entitled for TWO one-to-one sessions with us. 
Register now for our upcoming Cohort 2: Women & Wealth Workshop and claim your seat.
Intake closes on 14 MAY 2023
One guaranteed result that financial advisory could do for you is to highlight your financial blind spots, gaps and risks. Financial advisory will not make you a millionaire. It becomes your responsibility to incorporate financial literacy when making choices, and reform your financial habits after completing the advisory exercise. All these little changes add up over time and that's how you eventually become financially independent.
Like going for a medical check-up, only you can improve your health conditions the same way you are responsible in improving your wealth conditions. Your efforts or lack of efforts will compound. Prevention is always better than cure.
My team and I will not be liable for the actions and decisions that you choose not to take, even after knowing what your options are. Leaving your holistic financial plan in your email inbox is a choice, changing your life one step at a time is also a choice. Choose what's right for you, your future is counting on you.